The Healthcare Reform Act makes $36 billon available to healthcare practitioners to create a nationwide network of electronic health records (EHR). Each practice is entitled to $44,000 if the spending meets guidelines for meaningful use.
The first step in converting to EHR is selecting a software package that meets your practices needs. With over an estimated 300 EHR solutions on the market, choosing a solution for your practice can be a daunting task. You will need to decide if you want software that will run on one of your servers or a cloud based solution. There are benefits to either type of solution. If you do not have the expertise in house to select a solution appropriate for your needs, consult with your IT provider to assist you with the selection process.
During the implementation process, your practice has to plan for dealing with huge volume of the existing patient's records. Do you need a production scanner for that? The answer for most small to medium practices is NO. Your day forward scanning requirements may not justify the cost of an expensive production scanner. Day forward scanning typically consists of Consent Forms, Patient Records, Lab Results, Physician Notes, Point of Care Patient Notes, Clinical Data, Medical Orders, and Patient Narratives. A production scanner is overkill for scanning this smaller volume of documents.
Here are a few alternatives to purchasing an expensive production scanner for back file conversion:
Scanning Service Bureau:
The easiest way to scan existing patient records is to outsource scanning to a scanning service bureau. However, this alternative is also the most costly. Typical costs run between 5 to 15 cents per page plus shipping costs to and from the service bureau. If you need additional services such as scanning of patient folders to capture the marks or notes on the cover or document reconstruction, the costs will be much higher. If you require that the service bureau scan the documents at your site the costs will even be higher yet.
Even if you hire Scanning Service Bureau, you will still need to purchase a scanner for your day forward scanning. It seems outsourcing scanning may be not a good choice for most small to medium practices due to:
High cost.
You may pay to scan patient records that may never need to be retrieved.
On Demand Patient Records Scanning:
Another alternative is to scan existing patient records only when you need them. We call this On Demand Patient Records Scanning. With this alternative, you only scan patient records when the patient schedules a visit or arrives at your office. You can scan their records once they make appointments or during the registration process or even after they finish their visit.
For On Demand Patient Records Scanning you can use a high speed document scanner such as Plustek SmartOffice SC8016U (A3/Tabloid Size) or Plustek PS 456U (A4/Letter Size). Both are inexpensive scanners and capable of scanning 80 page per minute. Both of these scanners have an 8000 page per day duty cycle to meet your daily On Demand Patient Records Scanning needs.
The key to the success of your EMR implementation is to choose right tools for the job. The software must meet your requirements and the scanner must have excellent paper handling and image quality. An added benefit of choosing a Plustek scanner is that they are cost effective and offer a lot of value. In fact, the Plustek SmartOffice PS456U and SmartOffice SC8016U were awarded Best Value award by Buyers Labs.
Plustek recommends the following scanners for your healthcare scanning tasks:
Plustek SmartOffice SC8016U
–A Buyers Labs best value award winner. It is an ideal scanner for On Demand Patient Records Scanning for a medium sized practice. This 80 page per minute scanner can scan up to 8000 pages per day and scan as large as an 11X17" ledger sized page such as folder cover or charts.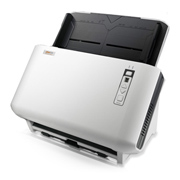 Plustek SmartOffice SC8016U
Plustek SmartOffice PS456U
- An page per minute scanner with a 60 sheet feeder. It is also a Buyers Labs best value award winner. It is a good choice for day forward scanning or On Demand Patient Records scanning when a low quantity of documents will be scanned each day.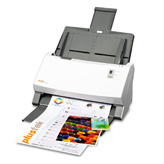 Plustek SmartOffice PS456U
Plustek D430
– The ideal scanner for registration areas and pharmacies. Its small footprint doesn't take up a lot of desk space. The D430 will scan both sides of a card in about 1 second and both sides of a registration document in less than 2 seconds. The ergonomic design enables easy card and paper loading.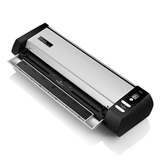 Plustek D430
For more information on the Plustek SmartOffice PS456, SC8016U and D430 scanners, visit
http://plustek.com/usa/solutions/industry-solutions/scanning-solutions-for-healthcare.html