Selecting a scanning solution for your patient registration area is a project that requires careful consideration. This guide will help you select the best scanner for your patient registration area. Your office staff will scan many registration documents and IDs each day. It's important to select an efficient solution for your office.
Conditions that influence your selection are:
•
Patient registration workflow.
•
Amount of registration desk space available for a scanner.
•
Do you need to scan documents or just ID cards?
•
Does the scanning solution need to interface to your practice management system?
•
How long will it take to scan registration documents for each patient?
•
Cost
Registration Workflow:
If your workflow requires that you load all the registration documents into a scanner at once and then press a SCAN button, your alternatives are limited and you need to choose a scanner with an Automatic Document Feeder (ADF). Plustek
SmartOffice
series scanners all have ADFs that let you load all your documents and ID cards into the feeder at the same time. Advanced image processing automatically straightens and crops documents and cards so there is no need to sort and scan by physical document size. Automatic rotation will rotate documents to the correct orientation if you accidentally load a document upside down.
The Plustek SmartOffice PS286+ (25 pages per minute) and the SmartOffice PS456U (80 pages per minute) are good choices if you need a scanner with an ADF. Both of these scanners can scan documents and ID cards in the same batch. You simply load all your documents in the feeder and start scanning.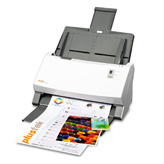 Plustek SmartOffice PS456U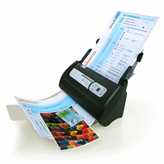 Plustek SmartOffice PS286+
A drawback of any ADF scanner is that it takes up a lot of registration desk space and many times, the ADF mechanism causes the scanner to be more expensive. If your workflow permits you to load and scan ID cards and documents one at a time, consider a sheet fed scanner. Sheet fed scanners are much smaller than ADF scanners and only take up a minimal amount of desk space.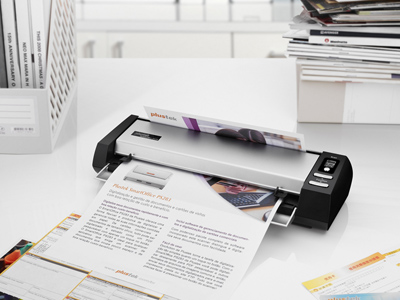 Plustek D430
The Plustek D430 is a fast, small foot print, sheet fed scanner. It costs less than most ADF scanners and it can scan both sides of an ID card in about 1.5 seconds and both sides of a 8.5 x 11" document in about 2.5 seconds.
Registration desk space:
Registration desks are crowded and there isn't a lot of extra space available to install a scanner. Most Plustek scanners have a very small footprint. In fact the sheet fed Plustek D430 is only 12" L x 4" D x 2" H and can be placed right up against an office wall.
If you have limited registration desk space and you need a scanner with an automatic document feeder, the Plustek SmartOffice PS286+ is a good choice. This 25 page per minute scanner has only uses 10" L x 5" D x 6" H of desk space.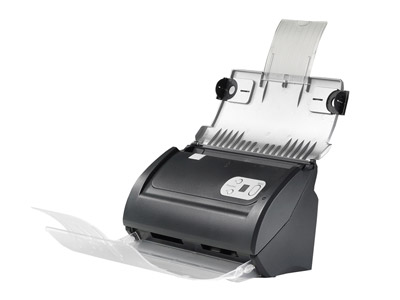 Plustek SmartOffice PS286+
What if I am only scanning insurance and ID cards?
If you are only scanning insurance and ID cards at your registration desk, your selection process is easier. A card and ID scanner like the Plustek MobileOffice S601 is an ideal choice.
MobileOffice S601
The MobileOffice S601 is only slightly larger than an ID card and will scan rigid and embossed cards up to 1.24mm thick and documents up to 4 x 6" in size. This small scanner is powered by your computers USB port so you don't need to have extra power wires cluttering your registration area.
Integration with Practice Management or Health Records Systems:
In most cases, your scanner will need to interface with another system such as a practice management or electronic health records system. Most of these systems use a method of communicating with scanners called TWAIN. If you need this connectivity, you must select a scanner that has TWAIN drivers.
All Plustek scanners include industry standard TWAIN drivers. The TWAIN drivers enable easy integration with almost any scanner enabled practice management or electronic health records system. An added benefit of Plustek scanners is that they have single touch scanning in addition to TWAIN drivers.
Single touch scanning even adds more value to your scanner by enabling you to scan to email, folder or even use your scanner as a copier simply by pressing a button on the scanner. In many cases, you can use single touch scanning to scan directly to your practice management or health records systems.
How much time does it take to scan documents for one patient?
The amount of time you want your office staff to spend scanning is important to consider.
When you use a sheet fed scanner, each page or ID must be inserted into the scanner one at a time. The time to scan each item can be as low as 1.5 seconds, but it takes a few seconds to load and unload each item. Benefits of using a sheet fed scanner like the Plustek D430 is that they take up less desk space and they are less expensive than a scanner with an ADF.
A faster alternative is to use an ADF scanner where you can load all of a patients registration documents and their ID in the scanner at one time. A scanner like the Plustek SmartOffice PS456U will scan an id card and 4 pages of registration documents in less than 5 seconds
What are the costs?
A sheet fed scanner like the Plustek D430 will cost less than $400 while an ADF scanner will cost between $400 and $800. A more expensive scanner is typically faster, has a feeder that can hold more pages and has a higher daily duty cycle.
For more information on scanning in the healthcare vertical, visit the Plustek healthcare portal:
http://bit.ly/plustekhealthcare